Click to Enjoy Mr. Chris' Jingle
Click to Enjoy Mr. Chris' Jingle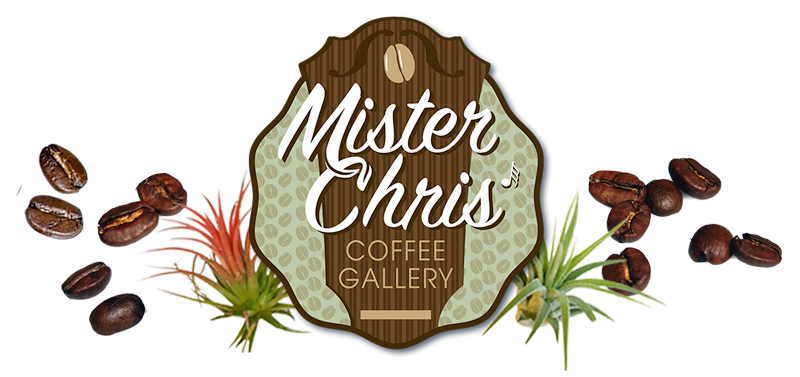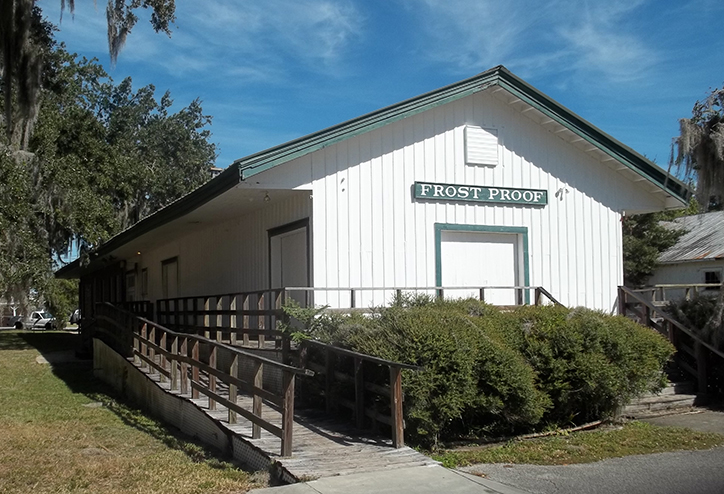 The Frostproof Train Depot
Built in 1912 and is the current home base for Mister Chris' Coffee Gallery. A huge amount of history and character, and a great place to have a conversation with some fine coffee, music and art.
Welcome to Mister Chris' Coffee Gallery
Welcome to the "new" Mister Chris' Coffee Gallery website! It's been almost one year since the site was created and it was time for a change. I hope you enjoy the fresh look. Many things have been added to the store. Including coffee from five other regions of the world and the Framed Photographs have now been placed in the store.
I want to thank everyone who purchased coffee in the past year. It is greatly appreciated and the folks at St Jude's Children's Hospital will appreciate it as well.
I would also like to introduce "Daisy the Coffee Dog," my new coffee roasting assistant. She adds to the experience a dash of fun, excitement, and inspiration to the entire website. Please welcome her, she's very sensitive and not familiar with rejection.
Thank you all again, enjoy the site and try some of the latest coffee added to our store.
Watch the progress of our coffee tree in
Boquete, Panama.

The flowers get pollinated by insects. The stems left after the flower drops becomes the bottom of the berry. When at their peak, these berries will be harvested and custom roasted, packaged and shipped to you. You can't get fresher than this!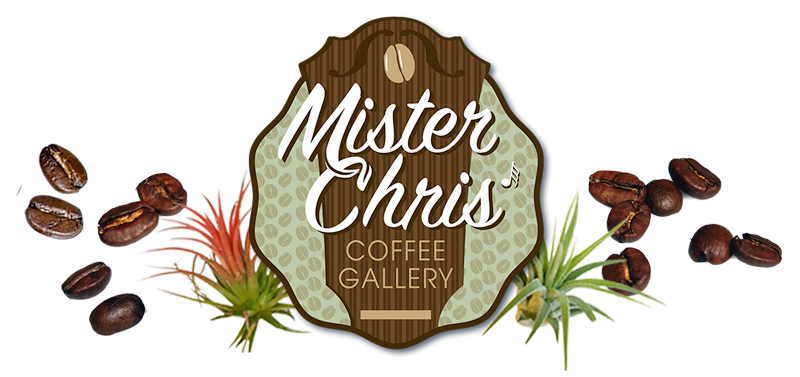 Welcome to Mister Chris' Coffee Gallery
I enjoy what I do and have always felt that, if you show joy and excitement in what you do, others will experience the same; it can be so contagious. I've never felt the need or the desire to seek anyone's approval, although I do hope people see something positive and good when I express myself; and it makes others feel better or maybe even inspired. I'm very happy with my stuff; perhaps you will be too.
The first 20 years of my life was spent trying to learn the basics: writing, reading, and arithmetic. "I'm still working on all three!" The second 15 years of my life was trying to develop my craft, which was primarily music, with a little bit of photography throw in there; and entertaining, writing, and recording; but mostly having fun. Probably, too much fun!
That gets me to the ripe old age of 35. I married and we had a child one year later; no messing around. I'm still married to the same woman; I love her, the father of our only son; and I love him too. I spent 32 years trying to be a good husband and a good father. I'm still learning how to do both! (That ties into the three R's I'm still working on, mentioned above.)
OK! If my math is correct that gets me to 67 years old. If I paid the slightest bit of attention in my first 20 years of learning, my addition should be correct. In between the afore-mentioned milestones; there is a multitude of stories. Some will be brought into view or the website; some will not!
I've always considered myself to be somewhat creative; THAT I inherited from my mother's side of the family. I was exposed to some unbelievable talent.
I have 32 years of smoldering ideas that need to be rekindled. Based on the law of averages I probably only have about 20 years to go before I meet my maker. I'm not trying to appear morbid but I have never had a problem with reality; I hope you don't. Time is of the essence. Time is the one thing we all have in common; don't waste it!
I plan on many journeys in the next 10 years, or so. I hope to be able to share them in a fashion that will keep you entertained.
I'm in the early stages of the next phase of life and the adventures that await me; and I love it.
My plan is to push myself to the limits for as long as I can: push myself, visit as many places I can, meet as many people as I can, take tons of photos, write more songs, learn all I can learn, and then share!
Enjoy a cup or two and Start Your Day Singing!